Nell Frizzell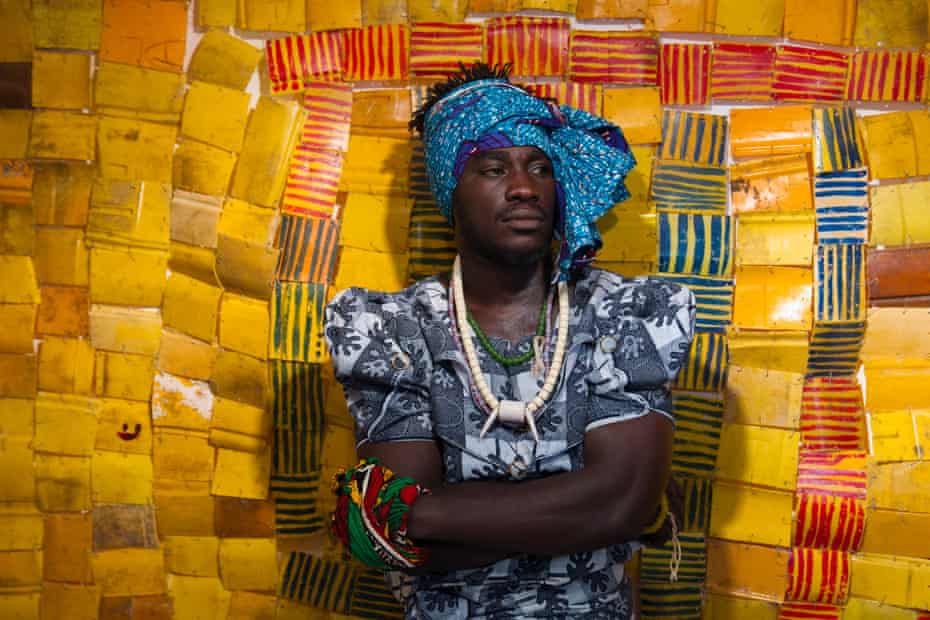 Serge Attukwei Clottey walked through Ghana's capital city in his dead mother's clothes to honour her memory – and to highlight injustice against women. It is the latest step in his art collective's mission to create social change.
A muscle-heavy man sits, staring unsmiling at the camera, on a throne of yellow plastic water cans. His biceps push out from under the puffed shoulders of a wax-print blouse; two hairy ankles emerge from below a blue patterned skirt; his head is wrapped in a large piece of fabric, a huge bow hanging over his left ear.
The man is Ghanian artist Serge Attukwei Clottey and the clothes he's wearing belonged to his recently deceased mother. The piece, My Mother's Wardrobe, was inspired by what Clottey saw as the basic injustice at the heart of Ghanaian funeral rituals. According to Ghanaian tradition, a mother's belongings are locked away for a year after her death and then distributed to her daughters and other women in the family.
As an only son, Clottey had no sister to inherit these belongings and so would have lost the very fabric of his mother's memory. So he decided instead to put on his mother's blouses, carry her bags and walk through the streets of Accra.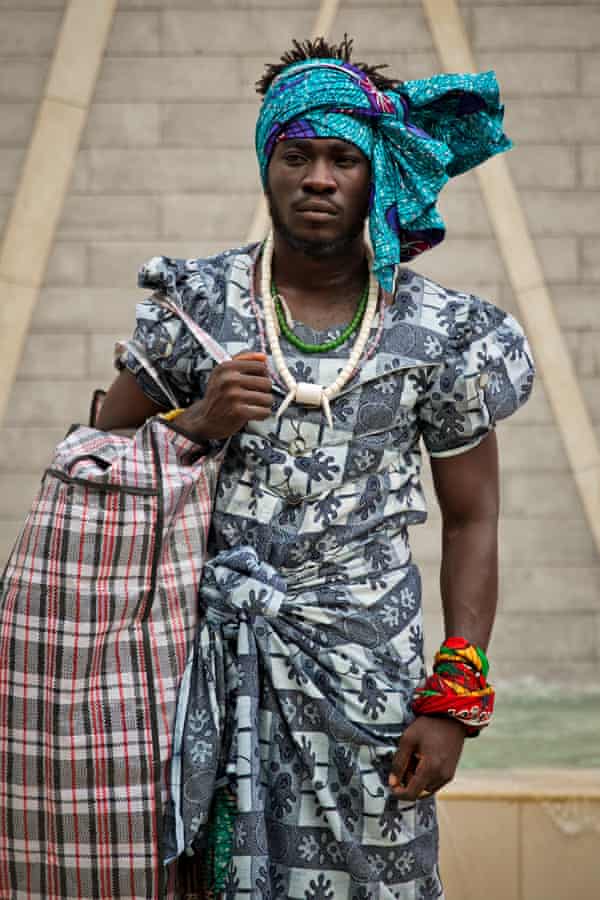 "I wanted to enact my relationship with my mother but also point out this imbalance," explains Clottey, speaking to me at the 1:54 Contemporary African art fair in London. "I could feel her presence very close up, they had her smell." The rest of Clottey's GoLokal Collective – a group of artists, family and friends based around Clottey's studio – also joined in, with both men and women leaving their homes, dressed in their mother's wardrobes, to convene in the centre of the city. "Gender roles are very limited in our community but we all felt very comfortable in those clothes," explains Clottey. "People who saw us were taking pictures and very happy at the idea."
Clottey, who trained in Brazil and whose father is also an artist, is perhaps best known for his work with yellow plastic jerry cans used to collect and carry water – what he calls "Afrogallonism". Tapestries and sculptures made from these objects are intended to highlight Ghana's water crisis and soaring levels of pollution. But, twinned with his mother's clothes, the cans also said something interesting about female domesticity, duty and daily life. "My mother was collecting the plastic gallon cans for me when she was alive," says Clottey. "They are of the streets, they're everywhere, but they are related to women because most of the time they're the ones who collect water. So I like to bring them into the gallery space – to give them that prestige."
Clottey's performance installations have included The Displaced , shown in video at Feuer/Mesler New York in 2015, in which the GoLokal collective stood on Labadi Beach, with fishing nets covering their bodies, enacting the trade and migration story of the Clottey family; and African Electronics in which GoLokal paraded through the streets of the Jamestown district wearing costumes made from suits, cameras, cassette tapes, ceremonial robes, body paint, rope, fabric and, of course, those yellow jerry cans. "African Electronics isn't about electronic gadgets, but about the minds behind those inventions, about individual power," says Clottey. "In Ghana we use animals, plants, nature to heal ourselves, to communicate our spiritual problems and that is very powerful. I grew up in a religious family but I'm now getting more spiritual by accepting our traditions."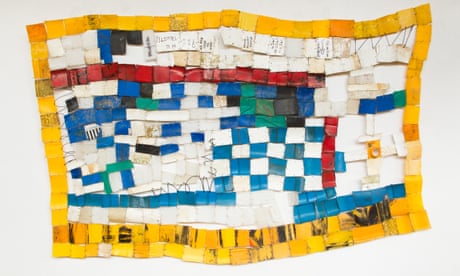 Ghana, like much of the developing world, is a place where pre-industrial, analogue and digital technology coexist; where mines, mobile phones, water cans, Instagram, fishing nets and video cassettes weave together in daily life. Clottey uses his own body, in performance, to try and bring together these disparate and competing forces.
"I used to work as a model," he says. "To work in the arts you have to find a way to make money, but I was also interested in how modelling can manipulate the way you move. When I realised that I could also use that body in my work, I already had an audience who were interested in me as a model."
Clottey says that his performances are now met with enthusiasm and curiosity in Accra, but it has taken some time. "Our costumes are made from simple materials and we use people's energy; so people would attack us because they thought there was something spiritual to what we were doing. People without skill are scared to express themselves; they feel like they don't have a platform. But they want to experiment with their ideas."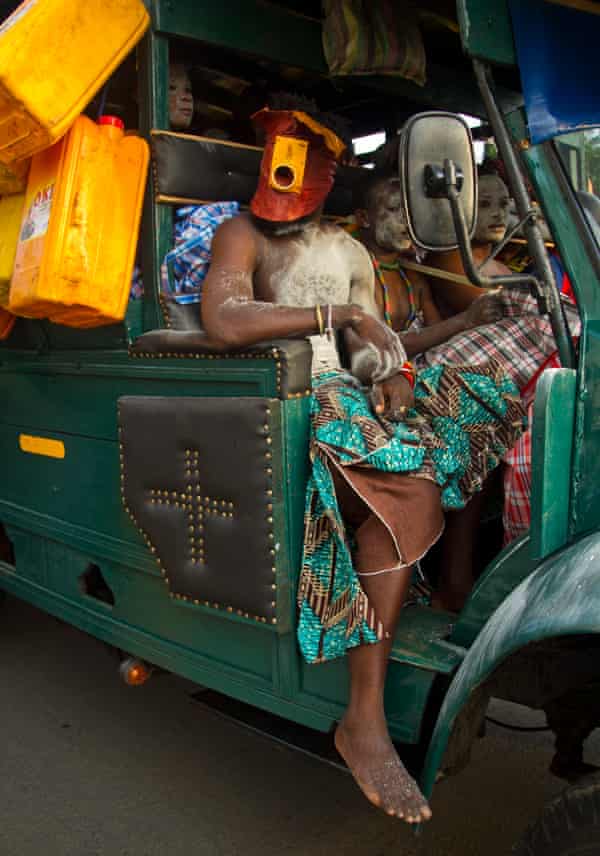 GoLokal's next project will be a mock election, held at the 1957 Gallery in Accra in December. "It will be called The Museum of No Tolerance and I'm going to campaign to be president," says Clottey, his voice deep and serious. "We'll start working on it in November. There will be posters all over the city and I'll go from house to house offering food and water to people as part of the campaign. We want to make people aware and conscious of who they vote for. People treat this country like a medium that they have no control over but politics is very powerful." Clottey wants to highlight Ghana's problems with corruption, so the ballot boxes will be made of white porcelain so, as he says, it feels like you're dropping your vote into a toilet. It's another example of Clottey using everyday objects to engage people with contemporary politics and personal decisions.
Which brings us back to his mother's wardrobe. What, I wonder, has happened to the clothes he wore for the project? "I still have them," says Clottey. "I often wear her clothes when I'm working in my studio." The image of this 6ft 1in man, carving up the yellow plastic cans that litter the streets and beaches, wearing his mother's blouses is both strange and moving. "Sometimes I wrap the fabric around my waist," he adds, "just to feel her close."
Source: https://www.theguardian.com